Interview from Boyscout.
Raya Stefanova and Maria Micheva are two of the most promising new faces in the family of ONE DESIGN WEEK.. The festival, back for another edition in Plovdiv in the first half of June, has for several years been trying to not only present the most interesting of the world of design and local savvy, but also to make the topic of design accessible to all. The graduate of Design Academy Eindhoven, Raya Stefanova has caught the eye of Boyscout, boasting a pretty interesting collection of exhibitions and projects behind her, she has boldly entered into her role as art director of One Design Week 2016. For her part, the graphic designer Maria Micheva offers her huge enthusiasm for typography and language and thus leant her skilled hands to create the visual identity of the event from the picturesque Dutch town of Arnhem, where she completed her master's degree.
The theme of this year's festival –Can I help you? is an open-ended question for the direct impact of design on our lives, whether we want it or even notice it. Although they are separated by nearly two thousand kilometers, Raya and Maria are obviously on the same wavelength, showing serious maturity in their modest years and an enviable sync for two people who communicate and work primarily online.
How did you become part of the team of the festival?
Raya: For the past few years I was a participant in the festival, obviously my motivation was apparent enough for the team to invite me to occupy this important position for the festival. Well, I took a great responsibility, not knowing what awaited me, but I love challenges.
Maria: Raya contacted me by email after mutual acquaintance from Holland had mentioned me to her. After a brief conversation, Raya came to meet me in Arnhem from Eindhoven, for the Dutch Design Week. I'm very happy that I was entrusted for this task.
What (unique) can we expect from One Design Week 2016?
Raya: We have many open events planned, in which everyone willing, can participate – as well as workshops for making a variety of things, and active discussions and demonstrations. Again there will be exhibitions by Bulgarian and international designers. There will be several international projects, where designers from countries such as Sweden, Iceland, Norway, the Netherlands, Finland, and those closer to us, Czech Republic, Hungary, Poland and Slovakia will arrive in Plovdiv to implement projects based on the local context. The results will be presented during the festival.
You want to engage the general public to take interest in design, but how you plan to get their attention?
Raya: Design affects every one of us and we want to simply show that. One has the choice of what book to read, which concert or theatrical production to attend, but design has applications in areas that directly affect the way and quality of life for each of us. We can not control the extent to which we interact with the design, but what we can do is to control its quality. Often we suffer from poor design, be it the chair on which we sit, or delayed meeting because of unclear signage and navigation. Exactly this affects our ability to visually identify. I selected the question "- Can I help you?" as the theme of this year's festival because it is understandable to all. In order to reach the general public, which is not so familiar with design, we will invite non-professionals to react and comment on the submitted projects and exhibitions from their point of view. We do this precisely because we realize that design in Bulgaria is still regarded as something expensive and inaccessible, intended for the elite. But it is not.
You have also made invitation to anyone wishing to propose a design event or project.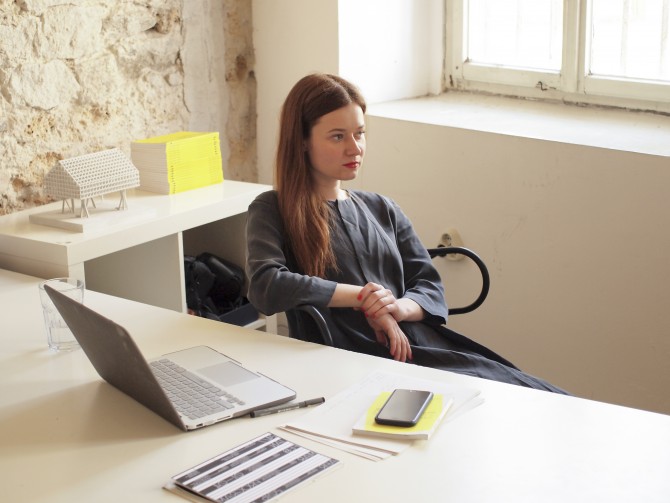 Raya: An open invitation is very important to me. I am mostly looking for self-initiative, motivation and justification for why a project deserves to be presented to the audience. Also, following the criteria such as originality and relevance to the topic.
What are the most important practical applications of design in the life of the modern urban man?
Raya: Tough question, generally I do not like to do charts and put one above the other. Good design is holistic, it does not divide but unites everything and brings harmony.
Maria: The most important thing for me is the awareness of the context in which a person is. Things like a new graphic identity, or changing the font become unimportant compared to the power of manipulation of the media and the way it distorts an image on a global scale.
Does good design come out of Bulgaria?
Raya: I am sincerely very happy and appreciate any kind of self-initiatives. I like the tendency for people to start and realize their ideas, whether in the form of a shared workspace or a brand for food, clothing or accessories, the attitude toward the urban environment, startups, workshops and so on. These are all projects that include design thinking. Examples of successful products that come to my mind are HALFBIKE and the paint ESCREO  – both are entirely created in Bulgaria, but are not limited to borders, at least geographically.
Maria: There have been the initiatives FOR BULGARIAN CYRILLIC  and the events TYPOFEST in the last two years. Summer School KNOW-HOW / SHOW-HOW of Henk and Dima are also a good example of the enthusiasm which inspire similar workshops and open forums. Projects of this kind are important for the maintenance of diversity of the design scene and the construction of a design consciousness. This year's One Design Week will prove just that.
From local to global: what are the most interesting design trends worldwide?
Raya: Rethinking both the meaning and application of the design. The trends can be divided into two categories: artistic and social. Personally, I like how when the designer maneuvers between the two. In the artistic category it is an experimental and more personal approach to material, color, touch, and thermal experiences, in the social – the thinking about the other 99%, ie the majority of society.
Maria: The boundaries of the profession are becoming more and more blurred. The relationship between fashion and graphic design is an example of this that is most interesting for me. The philosophy of brands such as Maison Margiela and recently Vetements relies on collage, recycling and repetition – powerful tools and inspiration for many modern graphic designers.
Raya: Yes, I agree that the profession of the designer has changed a lot and this can be seen as a phenomenon and as a trend. I can give the example of my colleagues from the Academy in Eindhoven. Besides working in renowned design studios or starting their own businesses, there are those who have shifted into science. Others have developed concepts for events related to food. One boy already has created a huge workshop, really a factory, which realizes projects from known and emerging designers of Holland. Also there are those who are already teaching, and as for me, I work for the festival …
Finally, tell us about what was the inspiration behind the visual identity of this year's festival?
Maria: The most important thing was to avoid commercial tactics, to the extent that such an event format allows. My first impulse was to change the font. Since the market is still difficult to find fonts with a Bulgarian language version, I decided to development ta Bulgarian version of the font Lars, together with BOLD­-DECISIONS. The second impulse was to add a dash before Raya's theme "Can I help you?" Punctuation marks toward an open dialogue – an important part of the philosophy of this year's festival. Cartoons were used to accomplish the triggering of a reaction from the public, not for the magazine Duga, but because they represent design from our everyday lives, to which everyone has a connection. They are a tool for social change. Surely, the result is different from the previous few Plovdiv editions. I think that I managed to convey my own working style identity, along with the support from Raya and the rest of One Team. Still to come are its other applications aside from posters and social media networks: a new booklet, a website, a guide system.
Raya: Besides the approach, Maria's process is different. For me it is very important that within the team is someone who sees things from a different perspective, literally outside and it is unencumbered by the local pessimism. Overall, the collaboration with Maria acts as an outlet for me for all the difficulties and misunderstandings, that we sometimes encounter along the way.